Do you like shopping? Imagine shopping in a place where the streets are full of exciting things to buy. That's what you can experience in Dubai, a big and exciting city. Dubai is famous for tall buildings and fancy malls, but street shopping in Dubai is also enjoyable. 
Dubai is a big city in a country called the United Arab Emirates. It's known for being modern and prosperous. But it's not just about tall buildings. When you go to the streets, you can find a different kind of shopping, street shopping! Street shopping means buying things from small shops and stalls on the streets instead of big stores.
One of the best things about street shopping in Dubai is the mix of old and new. The streets have both traditional markets, called "souks," and newer markets with exciting things to explore. The Gold Souk is a famous market where you can see lots of shiny gold and sparkly gems. It feels like a treasure hunt!
Walking around the streets, you'll smell amazing spices and see colorful fabrics. The Spice Souk is a special place where you can find all kinds of spices that make food taste delicious. It's like a place of magical smells! The Textile Souk is where you can buy beautiful fabrics and clothes. Imagine wearing a soft and pretty scarf from Dubai!
Not only can you find old-style markets, but there are also new and cool places to shop in Dubai. Have you ever heard of the Global Village? It's like a big fair where people from different countries bring their things to sell. You can try foods from different places and see unique things you might not find anywhere else. It's like traveling around the world in one place!
And guess what? Street shopping isn't just about buying things. It's also about eating yummy food! On the streets of Dubai, you'll find stalls selling all sorts of tasty treats. From local foods like falafel and shawarma to sweet desserts like baklava, there's something for everyone to enjoy. The smell of freshly cooked food fills the air, making the streets even more exciting.
Street shopping offers a charming and authentic experience, immersing you in the vibrant local culture. The bustling streets are filled with small stalls and vendors selling various products, from textiles and accessories to spices and souvenirs. Street shopping is fun for many reasons, but one big reason is that you can talk to the people selling things. Sometimes you can ask for a better price, and it's like a friendly game. It's called haggling, and it can be really exciting to see if you can get a good deal!
Let's learn more about the cool street shopping in Dubai!
1. Textile Souk in Bur Dubai
The textile souk in Bur Dubai is a haven for fabric enthusiasts, offering a rich assortment of fabrics that cater to different tastes and needs. Explore a variety of fabrics, including silk, cotton, and lace, among others, at this vibrant marketplace.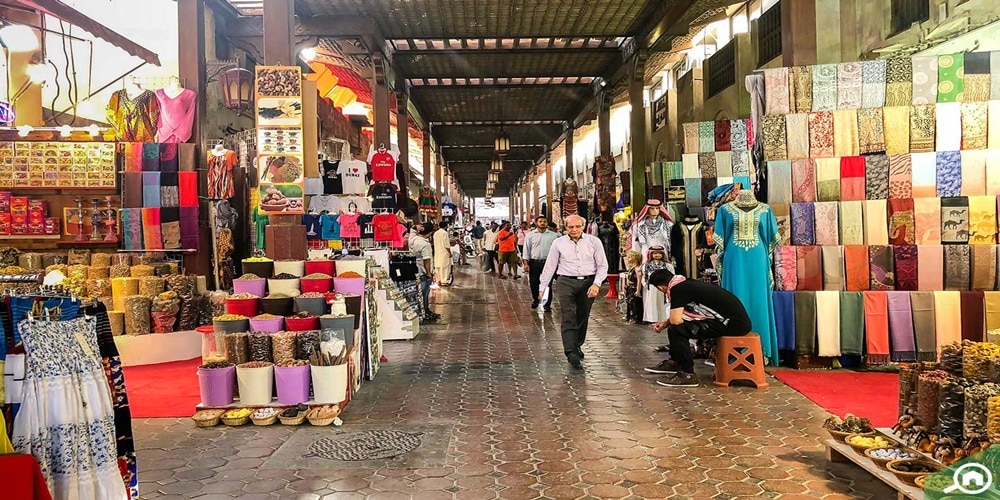 Silk: The Textile Souk in Bur Dubai presents a wide range of silk fabrics known for their luxurious texture, lustrous sheen, and elegant drape. You can find pure silk fabrics in various weights and finishes, suitable for creating exquisite garments or adding a touch of opulence to home decor.
Cotton: Cotton fabrics are popular for their breathability, comfort, and versatility. The Textile Souk offers a diverse selection of cotton fabrics, ranging from lightweight and soft cotton lawn and voile for summer wear to heavier cotton twill and denim for durable and structured garments.
Lace: The Textile Souk is a treasure trove for enthusiasts, offering different lace fabrics, patterns, and designs. From delicate chantilly lace to bold guipure lace, you can find an array of options to add a touch of elegance and femininity to your creations.
Embroidered Fabrics: The Textile Souk also showcases a variety of intricately embroidered fabrics. These fabrics feature exquisite hand or machine embroidery, often incorporating traditional motifs and designs. They are ideal for creating stunning dresses and abayas, or adding embellishments to home furnishings.
Traditional Arabic Fabrics: Explore traditional Arabic fabrics like jalabiyas and kanduras, which reflect the region's rich cultural heritage. These fabrics often feature vibrant colors, intricate embroidery, and unique patterns, offering a glimpse into the traditional clothing styles of the Arab world.
Whether you're a fashion enthusiast looking for luxurious silk, a craft lover searching for delicate lace, or someone seeking traditional Arabic fabrics, the Textile Souk in Bur Dubai has something to suit every taste.
The Perfume Souk in Deira, Dubai, is a vibrant and bustling marketplace known for its wide selection of perfumes and fragrances. This traditional souk located in the historic district of Deira offers a unique and immersive shopping experience for perfume enthusiasts.
One of the main attractions of the perfume souk is its extensive range of fragrances. You can find perfumes from renowned international brands and local niche perfumers here. The souk boasts incredible scents, ranging from floral and fruity to woody and musky.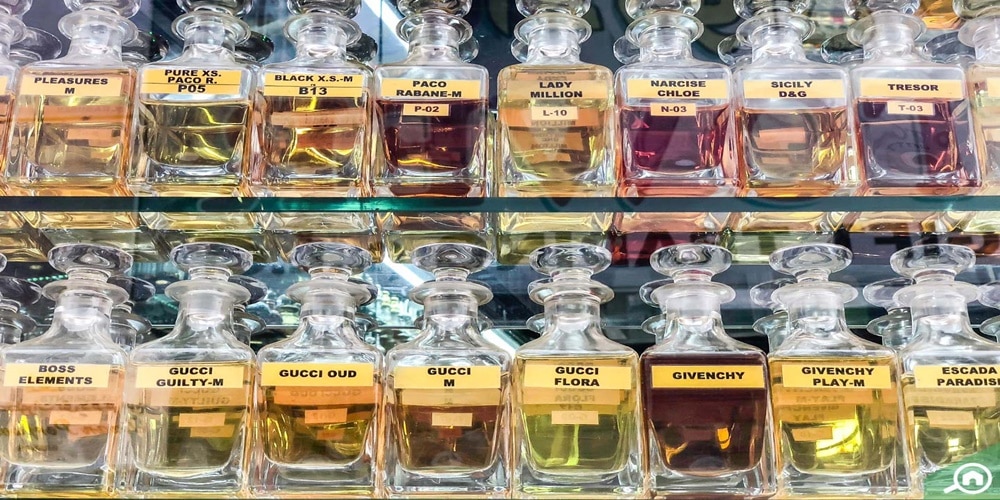 What sets the perfume souk apart is the opportunity it provides for creating personalized fragrances. Many shops in the souk offer bespoke perfume services, allowing customers to craft their unique scent.
Perfumers at these shops are skilled artisans who can guide you through different notes, blending them and creating a fragrance that reflects your style and preferences.
In addition to personalized fragrances, the perfume souk offers a selection of traditional Arabic attars. Attar is a highly concentrated perfume oil derived from natural ingredients such as flowers, herbs, and spices. These attars are often used in traditional Arabic perfumery and are highly regarded for their rich and long-lasting scents.
The Spice Souk in Deira, Dubai, is a captivating marketplace that offers a remarkable array of spices, herbs, and dried fruits. This bustling souk is a treasure trove for culinary enthusiasts, food lovers, and those seeking to explore the vibrant flavors of Dubai and the Middle East.
From everyday household staples like cumin, turmeric, and cinnamon to more exotic and rare spices like saffron, sumac, and za'atar, this market has something to satisfy every culinary curiosity. The variety and quality of spices available here are impressive, making it a paradise for food enthusiasts and chefs.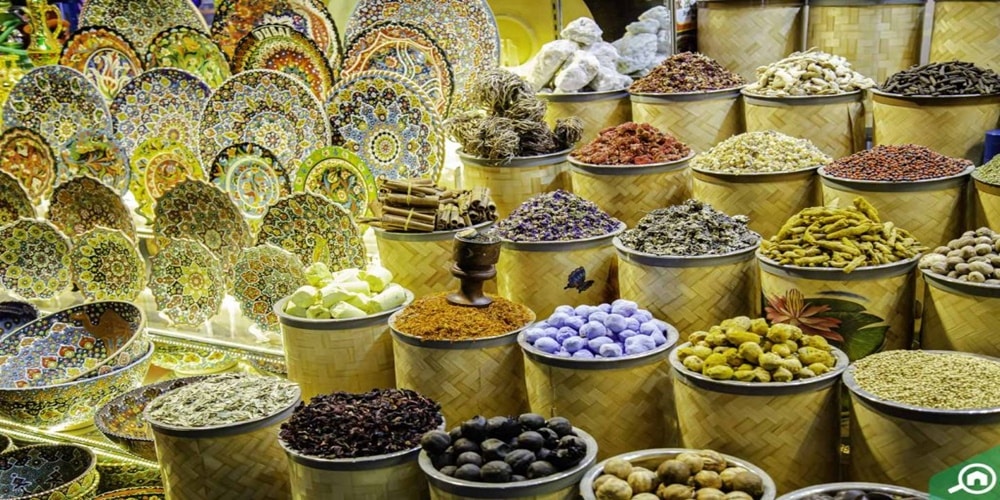 In addition to spices, the souk also offers a diverse selection of dried herbs. From fragrant rose petals and chamomile flowers to flavorful thyme and oregano, you'll find a wide range of herbs that elevate your cooking and add a touch of Middle Eastern flair to your dishes.
The spice souk is also an excellent place to discover a multitude of dried fruits. From luscious dates and apricots to figs, raisins, and nuts, the souk showcases an extensive assortment of delicious dried fruits and is an integral part of Middle Eastern cuisine.
Many shops in the souk offer pre-mixed spice blends that are carefully crafted using traditional recipes. These blends often combine a harmonious balance of spices and herbs, providing a convenient way to add complex flavors to your cooking.
Another popular item in the spice souk is traditional Arabic coffee, known as "qahwa." This fragrant and rich coffee is often spiced with cardamom and other aromatic ingredients, giving it a unique and inviting flavor. You can find various varieties of Arabic coffee beans and ready-to-brew blends in the souk, allowing you to savor the authentic taste of this traditional beverage.
The Gold Souk in Deira, Dubai, is a renowned destination if you are looking for exquisite gold jewelry and a captivating shopping experience. Gold souk located in the heart of the historic district, this traditional market offers an extensive range of gold designs, showcasing both traditional and contemporary styles.
When you enter the Gold Souk, you'll be surrounded by a dazzling display of gold jewelry in various forms, including necklaces, bracelets, rings, earrings, and more. The souk is famous for its extensive selection of gold designs, catering to all tastes and preferences.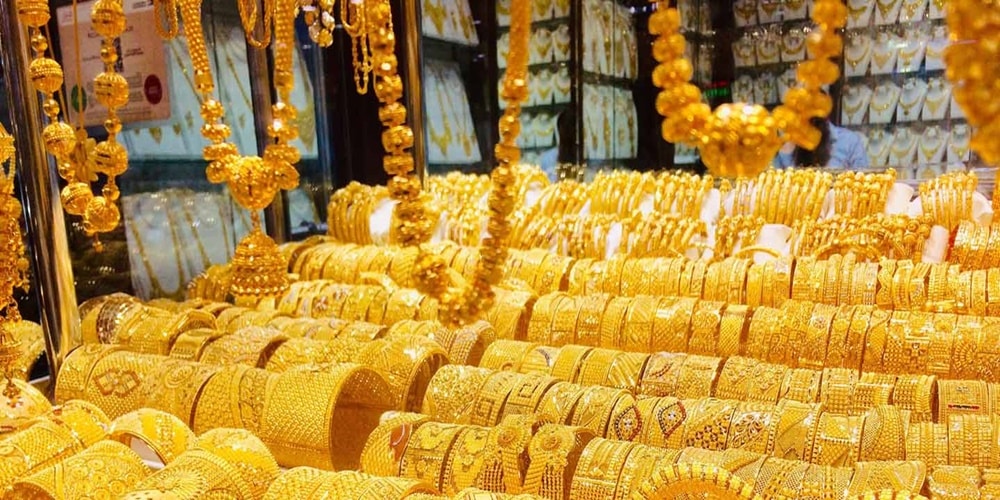 Traditional gold jewelry is unique in Middle Eastern culture, and you'll find various conventional designs in the gold souk. These designs often feature intricate filigree work, elaborate patterns, and meticulous craftsmanship.
Traditional pieces can include iconic Arabic calligraphy motifs, floral patterns, and geometric designs emblematic of the region's cultural heritage. The richness of the gold, combined with the traditional designs, creates a timeless and elegant aesthetic.
Alongside the traditional designs, the Gold Souk also offers a range of contemporary gold jewelry that caters to modern tastes. These designs often incorporate sleek lines, minimalist elements, and innovative concepts. From delicate and understated pieces to bold and statement-making jewelry, you'll find a diverse collection of contemporary designs that reflect the evolving trends in fashion and personal style.
One of the unique aspects of shopping in the Gold Souk is the opportunity to customise and personalize your gold jewelry. Many shops in the souk offer bespoke services, allowing you to create a piece explicitly tailored to your preferences.
The quality of gold in the gold souk is highly regulated, ensuring you purchase genuine and authentic pieces. You can get gold jewelry in the souk in 18-carat or 22-carat gold, with some shops offering higher purity options.
5. Karama Shopping Complex
Karama shopping complex in Dubai is a bustling marketplace known for its wide range of products, offering a unique shopping experience for those seeking a good bargain. From clothing and accessories to electronics and household items, the complex presents an opportunity to find inexpensive items and enjoy budget-friendly shopping.
Clothing and accessories are a significant attraction. Many shops offer various fashion items, including clothing for men, women, and children.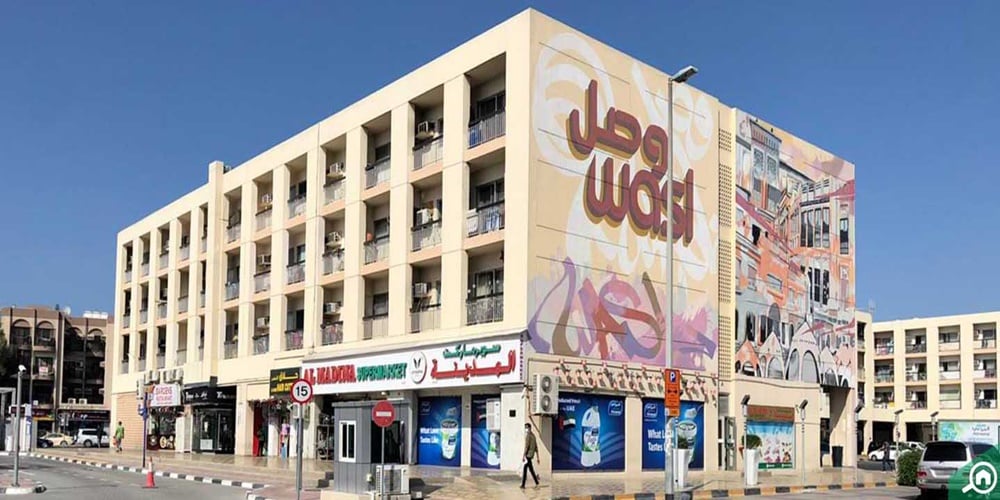 From trendy outfits to traditional attire, there's something for everyone. The complex is particularly famous for its replica designer clothing and accessories selection, allowing you to find affordable alternatives to high-end brands. Whether you're looking for casual wear, formal attire, or accessories like bags, shoes, and jewelry, the Karama shopping complex provides various options at affordable prices.
Electronics enthusiasts will also find this shopping complex interesting. Numerous shops offer various electronic gadgets and devices, including smartphones, tablets, laptops, cameras, and accessories.
While the prices may not always be the lowest compared to larger electronics retailers, there's an opportunity to find good deals, especially on previous-generation models or during promotional periods. However, it's worth exploring different shops within the complex to compare prices and negotiate for better deals, as bargaining is common.
Beyond fashion and electronics, the Karama shopping complex houses shops offering various products. You can find cosmetics, home decor items, handicrafts, souvenirs, toys, and more.
The complex is known for its collection of imitation or "copy" products, where you can find replicas of luxury brands at significantly lower prices. While it's important to note that these replicas are not genuine, they may still appeal to those looking for budget-friendly options or souvenirs.
In conclusion, street shopping in Dubai isn't just a transactional activity, it's a journey of immersion, connection, and joy.
The bustling souks and lively markets encapsulate the soul of Dubai,  a city that bridges the gap between its rich past and its progressive present. So, whether you're drawn by the sparkle of gold, the allure of spices, or the camaraderie of diverse cultures, the streets of Dubai are waiting to welcome you with open arms and promise unforgettable experiences.
To fully embrace this enchanting experience, it's essential to come prepared. Remember, if you're an international traveler, apply for your Dubai visa in advance, granting you the privilege to delve into the heart of this shopping heaven. So, pack your curiosity, your shopping prowess, and your Dubai visa, and get ready to partake in a shopping escapade that blends tradition, modernity, and authenticity like nowhere else. Dubai's streets are waiting to share their stories with you, one purchase at a time.
So, why wait? Dive into the world of street shopping in Dubai and embark on an adventure that will leave you with cherished memories and a newfound appreciation for the beauty of street shopping culture.