Apply for Dubai Visa Online - UAE Tourist Visa Centre
Get Your Dubai Visa With Confidence
We at UAEVisaOnline, pride ourselves on delivering fast and reliable visa services for everyone eligible to apply for a UAE eVisa. We offer a user-friendly platform that makes the visa application process simple and hassle-free. You can easily navigate our website and submit your visa application in a few simple steps, without the need to visit an embassy or consulate.
Quick turnaround time for processing visas. Our team of experienced professionals is well-versed with the latest visa regulations and updates from the UAE government, ensuring that your application is processed efficiently and without any delays.
Our team is always available to answer any queries you may have regarding your visa application. We also provide regular updates on the status of your visa application, so you are always aware of the progress.
Range of visa types, including single and multiple entry tourist visas and transit visas, catering to travelers from all around the world. We also provide additional services such as flight booking, hotel booking, and tour packages to help you plan your trip to Dubai.
We use the latest encryption technology to ensure that all personal and financial information provided during the visa application process is kept confidential.
We do UAE visas for 111 countries on 6 continents
Click on your country map to apply for the UAE visa
UAE visa required documents and fees for
Dubai Visa Application Processing Steps
To apply for your Dubai visa, simply click on the "Apply Now" button and fill out the online application form with your full name, nationality, address, and passport details. You will also be required to upload a photo and a copy of your passport.
After filling out the form, you can submit your UAE visa fees using a variety of convenient payment methods, such as debit or credit cards and PayPal.
Once your payment is completed, you will receive your UAE visa approval letter within the time frame you selected during the application process. With this approval letter, you are ready to take the flight to UAE!
Most Popular UAE Visa Packages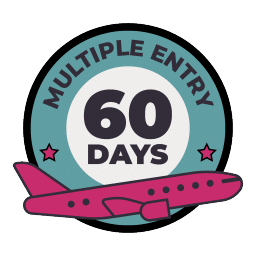 What types of UAE visas can I apply for?
You can apply for various types of visas online, including 30 days and 60 days tourist visas with single and multiple entry facilities and transit visas.
What are the requirements for a Dubai eVisa application?
The requirements for a Dubai eVisa application may vary depending on your nationality, purpose of travel, and other factors. However, common requirements include a valid passport, a recent passport-sized photograph, and payment of the visa fee.
How long does it take to process a Dubai visa?
The processing time may vary depending on the type of visa you are applying for, but generally, it takes 2 to 5 business days for a standard visa application.
What is the validity of a Dubai eVisa?
The validity of a Dubai eVisa may vary depending on the type of visa you are applying for, but generally, tourist visas are valid for 30, 60 or 90 days, while transit visas are valid for up to 30 days. Keep in mind that, Length of stay for a Transit Visa is maximum of 96 hours.
Can I track the status of my Dubai eVisa application?
Yes, you can track the status of your Dubai eVisa application through our website. Once you apply for a visa, we will provide you with an account where you can see your visa status from time to time.
What happens after I submit my Dubai eVisa application?
Once you submit your Dubai eVisa application, it will be reviewed by our team of professionals. If additional information or documents are required, we will contact you via email or phone. Once your visa is approved, we will send it to you via email.